/
/
/

I have stopped financing political parties long time ago

I have stopped financing political parties long time ago
June 22, 2011
SOURCE: Blic, Zoran Luković

'I used to finance political parties, but I have stopped doing that long time ago. That is the least profitable investment. Our politicians do not keep their promises and they'll do anything to prove not to have been in such an arrangement. I think that the society has democratized in recent years and that there is no need for me for such an arrangement', businessman Milan Beko says in his interview with the 'Blic'.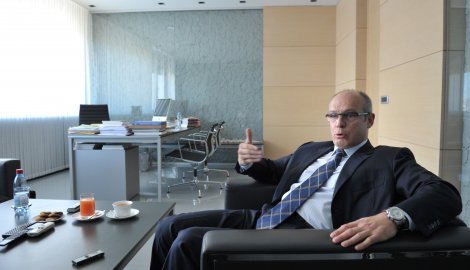 Q: People think that you made your business using privileges?
'That is a stereotype. I do not believe that there is anybody else to have been investigated more than me. That has been going on for ten years already. And after such a long time the state institutions still do not know if what I possess is legal or not. Does that speak about me or about the state institutions?' What should I do today, what legal frames should I accept in my behavior to avoid that some next authority says that I was close with the previous regime?'
Q: Can one be legitimate and enjoy privileges?
'Here all previous cases of privatization are being reconsidered by political-marketing motifs as if they took place in an irregular frame. We won all court trials regarding the 'Port of Belgrade' but the atmosphere that something is illegal is continuing to be created. For seven years already I am not in a position to exercise my right over the 'Port of Belgrade'. Of course the actual authority cannot admit that it was wrong and that the law is on my side'.
Q: But several other cases of privatization involving you as an owner are also being disputed?
'The Anti-corruption Council has its good social role. That is the only institution which speaks openly about crime and corruption. It primarily speaks about the State as the central factor in a problem in which we all from the business sphere are like satellites. What I object the Council is that it is not competent to do what it is doing. I have not taken part in a single privatization. I was buying shares at already privatized enterprises from owners'.
Q: Your statements over racketeering caused severe reactions?
'If my statements were not true, why did they cause such reactions?
Q: Do you think that politics obstructs business?
'More than that. A country in which there is no dialog between authorities and capital has no perspective. We have a system which is like a desert land – money which comes simply disappears. We are taking credits without reason to keep the level of public consumption for which the IMF and others are permanently warning us to be disastrous'.
Q: How shall disputes between the State and you end?
'The problem for the State is that the law is on my side and that is why all this has been going on for such a long time. However, I am convinced that at the end of the day the State shall have to respect the law and court decisions'.