/
/
/

Mrkonjic to help Beko to put 'Port of Belgrade' into business

Mrkonjic to help Beko to put 'Port of Belgrade' into business
June 30, 2011
SOURCE: Blic, Irena Radisavljević, PHOTO: Ognjen Radosević

Businessman Milan Beko met with Minister for Infrastructure Milutin Mrkonjic at Serbia Government Building yesterday.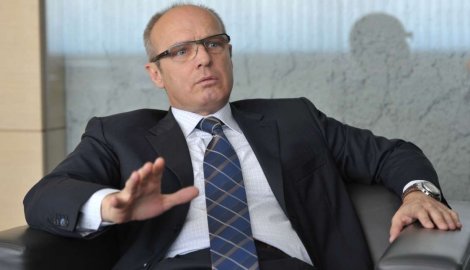 Milan Beko

'I have come to the meeting at invitation of Minister Mrkonjic who wanted to see if we are working on promotion of port activities at the Port of Belgrade. He made such request in two letters forwarded to the Port of Belgrade and wanted to see if it was respected', Beko says. He claims that sale of the port to the State which he himself offered in May, was not discussed about at the meeting.
Beko says to have drawn Mrkonjic's attention to the fact that the Republic of Serbia and the City of Belgrade are not using the port capacities, i.e. that they do not carry out cargo transport via the Port of Belgrade in the case of construction deals in which Serbia and Belgrade participate as customers or contractors.
'The Minister said that he would support my initiative that cargo transport is carried out via the port in future', Beko says.
His yesterday's visit to the Government is interesting in the light of his offer made to the State to purchase the Port of Belgrade from him for EUR 74 millions. The only one who responded to his offer was Dragan Djilas, the Mayor of Belgrade. He offered Beko EUR 40 millions, the amount which Beko had paid at takeover of the Port of Belgrade.
Beko, however, insists that he shall not sell the port below the price he offered.
'I paid EUR 54 millions and I want the covering interest that I would get had I deposited the money at a bank. Frankly I do not see how they calculated the amount of EUR 40 millions', Beko says.
Why is he selling such a valuable company at all?
'The State has a monopoly and the power. They made a pressure on me and I was exposed to threats. It is not wise to be in conflict with the State', Beko says.
He confirmed to 'Blic' that the offer he made has been made to the State exclusively and nobody else. This means that it shall not be offered in the market what further means that it shall be difficult to assess its real value. And this finally means that the price of this deal shall have to be paid by tax payers.
'This deal has no sense. It is not institutionally justified or economically rational.
Prices are determined on the market or eventually an evaluation of a company for sale can be made. That evaluation is only approximate. Then a company has to be offered on the market', Danilo Sukovic, member of Anti-corruption Council says for 'Blic'.