December 27, 2010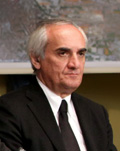 Dušan Slijepčević,
Member of the Council


Born in 1959 in Belgrade.
Graduated from the Faculty of Law in 1974.
Judge of the Second Municipal and District Court in Belgrade till July 2000 when he was discharged on account of his membership in the Association of Judges of Serbia. He is one of the founders of the NGO and non party organization "League of experts – Lex". He has been working as a lawyer since 2000.